Annual Beachbody On Demand® Shakeology® Challenge Pack
×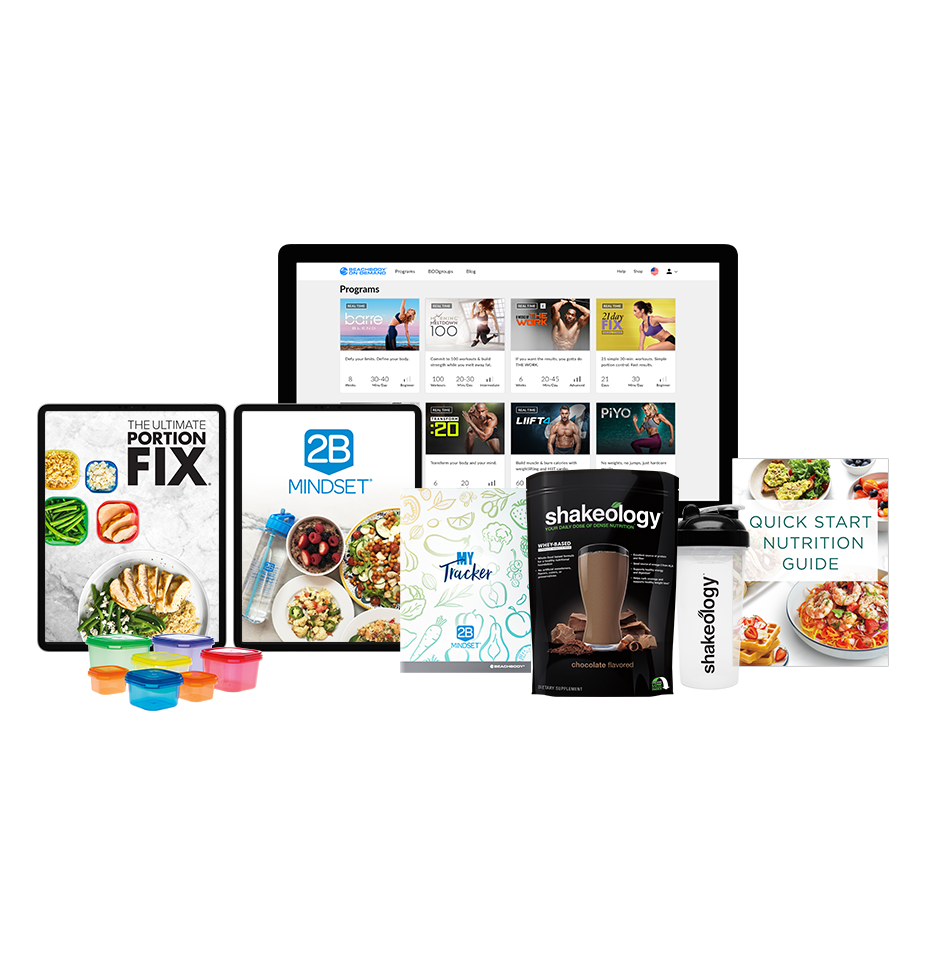 Hover or tap and hold to enlarge image
Annual Beachbody On Demand® Shakeology® Challenge Pack
Fitness + Nutrition + Support = SUCCESS
30-day supply of Shakeology, a science-backed superfood nutrition shake
Annual Beachbody On Demand access with 1,500+ workouts
Ultimate Portion Fix® and 2B Mindset® digital nutrition programs
First 30 days of Nutrition+™ membership
Shakeology Shaker Cup
Quick Start Nutrition Guide
Ultimate Portion Fix Portion-Control Containers
2B Mindset Tracker
Free access to your personal Coach
Your Promotion Price
$140.00
USD + s&h
About
Set Yourself Up for Success!
At Beachbody®, we know that when you combine fitness and nutrition you dramatically improve your odds of success! That's why we created a Challenge Pack bundle custom-designed to support your health and fitness journey so you can see results even faster!
FITNESS: Annual Membership to Beachbody On Demand!
Turn goals into results on Beachbody On Demand. Stream dozens of world-class Beachbody programs, including popular hits like 80 Day Obsession®, SHIFT SHOP®, 21 Day Fix®, PiYo®, and more. Access Beachbody On Demand on your smartphone, laptop, tablet, or TV—anywhere you have internet access.
Go to the FITNESS tab to learn more.
NUTRITION: Shakeology
Your daily Shakeology is more than just healthy essential nutrition that tastes like dessert. Meticulously crafted and rigorously tested, Shakeology is the wellness nutrition with clinically tested health benefits, all to help you eat better, feel better, and live better. Along with premium proteins and essential vitamins and minerals, each scoop has antioxidants, pre- and probiotics, phytonutrients, digestive enzymes, fiber, and adaptogens. When you give your body more of what it needs to feel and perform at its best, real change begins.
2B Mindset and Ultimate Portion Fix, PLUS the first 30 days of Nutrition+ Membership
In order to get the results you want, what you eat matters...a lot! We offer two proven healthy eating programs, both to help you for the long term, without starving or depriving yourself of the foods you love. The 2B Mindset, created by Ilana Muhlstein, MS, Registered Dietitian Nutritionist and author, is a flexible approach to weight loss that lets you eat larger volumes of food to help you feel satisfied physically and emotionally, with an approach to accountability to help keep you on-track every day. With Ultimate Portion Fix, Super Trainer and author Autumn Calabrese teaches you how to gain control over food by managing portions with color-coded containers to help you create delicious, perfectly portioned meals to reach your goals. You get both programs for free―all you need to do is pick the one that works for your lifestyle to help you reach your goals...and maintain them.
You'll also receive your first 30 days to the Nutrition+ monthly membership to help you stay accountable and on-track with ongoing ideas, inspiration, and support for each eating program. Ilana and Autumn will inspire you with new content each month, easy-to-make recipes, and simple meal plans so you have delicious variety. Plus, you'll get exclusive access to a thriving community of people just like you to support you every single day.
Go to the NUTRITION tab to learn more.
SUPPORT: Your Own Free Personal Coach
The #1 secret to success with any fitness and nutrition program is to stay accountable to your own health and weight-loss goals. That's why as part of your Annual Beachbody On Demand & Shakeology Pack, you'll have free access to a Team Beachbody® personal Coach who knows exactly how to help you succeed with any program you choose.
Go to the SUPPORT tab to learn more.
Your Challenge Pack Includes:
Your first 30-day supply of Shakeology
12 months of streaming access to world-class Beachbody programs, including:

Hundreds of proven workouts
Step-by-step program guides, program meal plans, workout calendars, expert advice, and more
FIXATE®, Mindset Menu™, and Shakeology cooking channels

Ultimate Portion Fix® and 2B Mindset® digital nutrition programs
First 30 days of Nutrition+™ membership
Quick Start Nutrition Guide (printed & digital)
Ultimate Portion Fix Portion-Control Containers
2B Mindset Tracker
Shakeology Shaker Cup
Free Access to Your Own Personal Coach
Fitness
Click. Stream. Sweat.
Now you can instantly jump-start your fitness goals with Beachbody On Demand, the best place to stream your workouts on-the-go. Not sure which Beachbody program is right for you? With your Annual Membership to Beachbody On Demand, you can try popular programs, like 80 Day Obsession, SHIFT SHOP, 21 Day Fix, PiYo, and choose the workouts that work for you.
Annual Beachbody On Demand Membership
Start streaming now! Commit to your challenge by choosing the program that's right for you from our massive collection of world-class programs.
Work out on your schedule—whether you're traveling for work, on vacation, or would rather do your workout at a gym, now you can access Beachbody's proven programs from any laptop, tablet, smartphone, or TV.
More than just streaming, Beachbody On Demand is the total package. Get step-by-step program guides, workout calendars, program meal plans, and access to our healthy cooking show FIXATE™. There are so many options, you can explore and find the program that's right for you.
Nutrition
The Nutrition You Need to Help Push Your Results To The Max!
Reaching your goals means fueling your workouts with the right nutrition, so you get the energy you need without feeling deprived. Your Challenge Pack makes it as simple as possible to supply your body every day with powerful, healthy vitamins and nutrients.
Shakeology – 30-Day Supply, PLUS a Shakeology Cup
Shakeology is your daily "fuel good, feel good" go-to, and an essential building block to a great, healthy day. Meticulously crafted with as many as 60+ ingredients, including protein, digestive enzymes, prebiotics, probiotics, adaptogens, fiber, antioxidants, phytonutrients, vitamins, and minerals, your daily Shakeology can help you feel more energized and ready to succeed.* When you have goals you're ready to crush, it's key to have Shakeology in your corner. Additionally, your pack also includes a 25-oz. Shakeology Shaker Cup, so you can make and take your shake on-the-go.
2B Mindset Digital Nutrition Program, PLUS 2B Mindset Tracker
The 2B Mindset program, created by Ilana Muhlstein, MS, Registered Dietitian Nutritionist and author, is a flexible approach to weight loss that lets you eat larger volumes of food to feel satisfied. People say this approach works because it helps them let go of the negative mindset that may have held their weight loss back in the past, and it helps them lose weight without feeling deprived. Ilana teaches you the principles that helped her lose over 100 pounds. Plus, learn about all the foods you can eat, how to make delectable, filling, and satisfying meals at home, and lose the weight you want while still living your life and enjoying the foods you love. You'll also get access to the Mindset Menu cooking channel where Ilana walks you through easy-to-make meals, satisfying side dishes, her go-to recipes, and tips she has used along the way to stay on-track and overcome emotional and mindless eating. Additionally, your Challenge Pack includes the 2B Mindset Tracker, which provides one convenient place to track 90 days of weight, water, and food intake, plus helpful planning pages that make it simple to apply the 2B Mindset to your daily life.
Ultimate Portion Fix Digital Nutrition Program, PLUS Portion-Control Containers
Ultimate Portion Fix, created by Super Trainer and author Autumn Calabrese, gives you control over food with color-coded containers to help you create delicious, perfectly portioned meals aligned to your goals. Autumn developed this program after advising numerous clients and observing they were often eating the right foods, but eating the wrong amounts. People say it finally makes them feel like they're in control of their food instead of it controlling them―while still getting to enjoy their favorite foods. Autumn walks you through her proven program step-by-step, including how to create satisfying meals for your whole family, balance your macronutrients, swap out processed foods, and help kick sugar to the curb. You'll also have access to the FIXATE cooking show. Autumn and her brother, professional chef Bobby Calabrese make delicious, easy-to-make, wholesome meals and snacks—all perfectly portioned to help you and your family reach your weight-loss goals. Plus, each episode is 16 minutes or less and lists container equivalents, so you can get cooking quickly and spend more time enjoying every full-flavored bite. And to help you get started, your Challenge Pack includes Autumn's seven color-coded portion-control containers.
First 30 Days of Nutrition+ Membership
In order to reach your goals and maintain your results, you need ideas, accountability, and support. Whether you're following 2B Mindset or Ultimate Portion Fix, the Nutrition+ membership, which includes The Mindset Membership™ and The Monthly Fix™, helps you stay on-track. You'll get access to key content from our nutrition experts and authors, Ilana and Autumn, as they tackle the biggest nutrition and weight-loss topics you'll want to know about. You get exclusive access to their LIVE interactions on Facebook; new meal plans to make eating right simple; delicious weekly recipes to keep it interesting; and a community of people who help each other through tough days and celebrate successes. The support of the community makes such a difference. Be part of it today!
Quick Start Nutrition Guide
If your goal is to get fit, be strong, lose weight, or stay healthy, we've got you covered. We created this resource to help you take your health and wellness journey to the next level. Inside, you'll learn why nutrition is key to long-lasting results, and how you can create a healthy eating plan that works for you and your lifestyle. We'll introduce you to the nutrition philosophy that's changed millions of lives, and to the programs and supplements that can help you meet your unique goals even faster. To help you embark on your new, healthy lifestyle right away, the Quick Start Nutrition Guide also contains an easy-to-follow meal plan. It's packed with tons of delicious, mouth-watering recipes to keep you motivated and help you simplify your routine.
Support
Support, Every Step of the Way
When you challenge yourself to succeed with a Beachbody program, we make sure you are never alone. You're part of a fitness community that's strong and is committed to support you throughout your program and beyond. We've helped hundreds of thousands get stronger, healthier, fitter than they ever thought possible.
Access to Your Own Personal Coach
Your free Coach can supply the support, motivation, and encouragement that helps keep you accountable to reaching your health and fitness goals. Your Coach can also connect you with other customers doing Beachbody programs for help and peer support along the way. It's a fact that people who have strong support systems are more likely to succeed at their fitness and nutrition programs.
Information Resources, Online Support, and More
You'll have 24/7 access to recipes, cooking tips, advice, and information on Beachbody On Demand.
Ingredients
Guarantee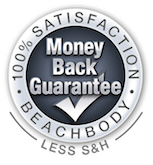 30-Day Money-Back Guarantee
If you're not satisfied with your product, simply go to faq.beachbody.com and select the "Return or Exchange" icon for a Return Authorization to return the product within 30 days for a full refund of the purchase price, less s&h—guaranteed.