Busy mornings? Then you'll love these baked oatmeal cups with walnuts and sweet raisins. Why oatmeal? It's high in soluble fiber, which helps with digestion and metabolizing carbs, it can help lower LDL cholesterol and, in turn, improve heart health and regular blood sugar, and it's high in magnesium, which helps your body process calcium, vitamin D, and vitamin K. Add in some crunchy walnuts for protein and omega-3 fatty acids, raisins for iron and potassium, and you've got one awesome breakfast to help you power through the day.
Make these ahead of time for the whole week and make your mornings a lot easier. They freeze well, too! To reheat, just thaw in the fridge overnight and microwave when you're ready for breakfast.
For more on the benefits of oats and how you can modify your oatmeal to make it just like you want it, click here. Or, use the toppings ideas in these recipes to inspire your own oatmeal cups recipe based on the one below.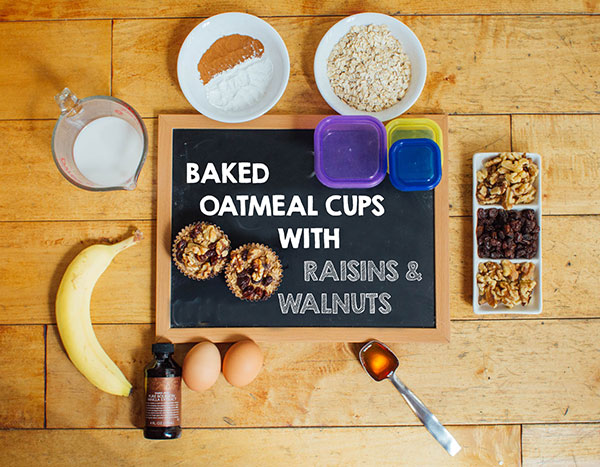 Baked Oatmeal Cups with Raisins and Walnuts
Total Time: 45 min.
Prep Time: 15 min.
Cooking Time: 30 min.
Yield: 12 servings, 1 cup each
Ingredients:
Nonstick cooking spray
2 large eggs, lightly beaten
1 tsp. pure vanilla extract
2 large bananas, mashed
1 Tbsp. raw honey
2½ cups old-fashioned rolled oats
1 Tbsp. ground cinnamon
1½ tsp. baking powder
1½ cups unsweetened almond milk
¾ cup chopped raw walnuts
¼ cup raisins
Preparation:
1. Preheat oven to 350° F.
2. Prepare twelve muffin cups by coating with spray. Set aside.
3. Combine eggs, extract, bananas, and honey in a large bowl; mix well. Set aside.
4. Combine oats, cinnamon, and baking powder in a medium bowl; mix well.
5. Add oat mixture to egg mixture; mix well.
6. Add almond milk; mix well.
7. Divide oat mixture evenly between prepared muffin cups.
8. Top evenly with walnuts and raisins.
9. Bake 26 to 30 minutes, or until golden brown and toothpick inserted into the center comes out clean.
Tip: Pecans, cashews, sunflower seeds, dried cranberries, or dark chocolate chips can be substituted for walnuts and raisins.
Nutritional Information (per serving):
Calories: 154
Total Fat: 7 g
Saturated Fat: 1 g
Cholesterol: 31 mg
Sodium: 81 mg
Carbohydrates: 21 g
Fiber: 3 g
Sugars: 10 g
Protein: 4 g
P90X/P90X2 Portions
1 Single Serving Snack
½ Fat
P90X3 Portions
1½ Carb
1 Fat
Body Beast Portions
1 Starch
1 Fat
½ Fruit
Portion Fix Containers
½ Purple
1 Yellow
½ Blue
Not familiar with Portion Fix? Find out how Portion Fix can make losing weight simple.
If you have questions about the portions, please click here to post a question in our forums so our experts can help. Please include a link to the recipe you're asking about.
Photos by Amanda Meixner
Save
Save
Save