Let's talk about pizza for a moment.
There's New York-style, where toppings are served up on a super thin crust that you can bend and eat as you people watch your way down the street. There's Chicago's deep dish with slices so dense and rich that it's hard to eat more than one (trust me I tried during my most recent trip there). And finally, there's SoCal pizza, made with a flatbread base and topped with all sorts of exotic toppings…like stinging nettles. And kale.
And that's just scratching the surface – it would take a much longer article, nay, a tome – to categorize and classify all the different types of pizzas in this world. Unfortunately, most of them do not fall under the classification of "healthy." This includes the best pizza I've probably ever had: A basil, tomatoes, and mozzarella cheese pizza I singlehandedly devoured in Naples with a knife and fork. And, now I want to go to there. It is, after all, the birthplace of pizza.
But, like you, I am trying to eat healthy. Enter the BBQ Chicken Flatbread Pizza! First off, this flatbread pizza screams summer. It's loaded with barbecue sauce and chicken. Second, unless you tell someone, there's no way they're going to know it's healthy. Half of a good-sized BBQ chicken flatbread will set you back about 300 calories and will power you with 35 grams of protein so you can dominate your opponents in horseshoes. Or whatever the kids are playing these days.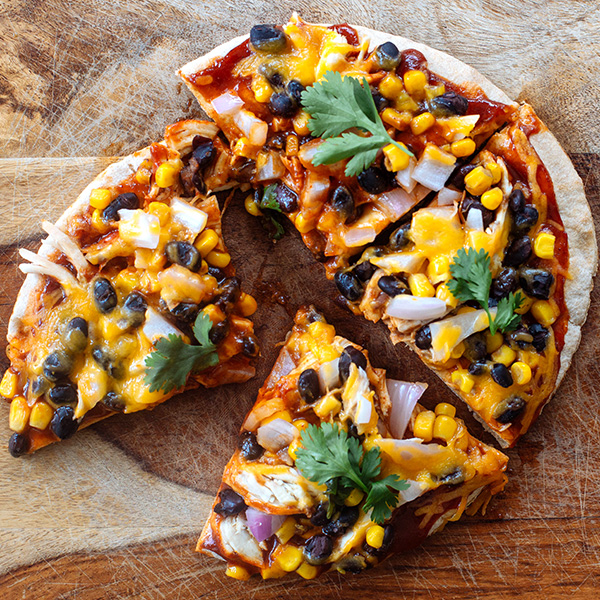 Because here's the thing. You could order a Domino's Memphis BBQ Chicken Pizza. And it'll probably be tasty. But it's 200 calories a slice. So, in theory, it's lower in calories. But, if there is a whole pizza in front of me, there is no way I'm eating just one slice.
Which brings us back to the BBQ Chicken Flatbread Pizza. It's loaded with grilled chicken and onions and corn and other veggies that make summer awesome. What are you waiting for?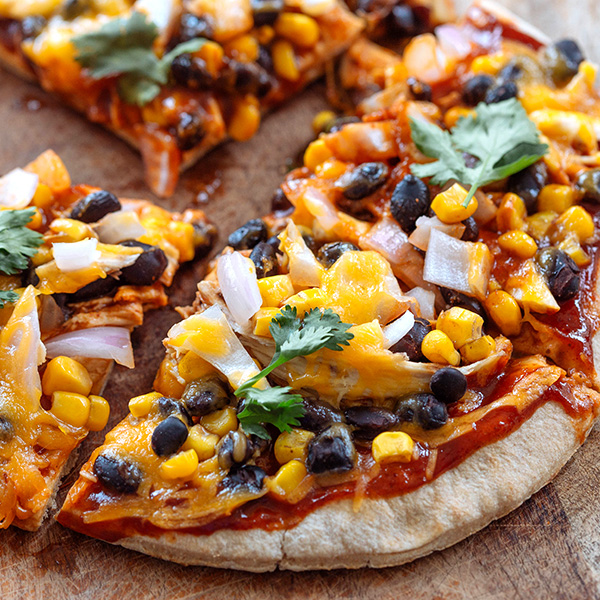 Psst…if you're gluten free – use this cauliflower crust!
BBQ Chicken Flatbread Pizza
Total Time: 23 min.
Prep Time: 15 min.
Cooking Time: 8 min.
Yield: 4 servings, ½ flatbread each
Ingredients:
2 whole wheat flatbreads (or 6½-inch whole wheat pitas)
½ cup barbecue sauce, reduced-sugar
1½ cups shredded cooked chicken breast
½ cup canned black beans, drained, rinsed
½ cup corn kernels
½ medium red onion, chopped
½ cup shredded cheddar cheese
¼ cup finely chopped fresh cilantro
1 Tbsp. fresh lime juice
Preparation
1. Preheat oven to 350º F.
2. Place flatbreads on a large baking sheet.
3. Spread barbecue sauce evenly on flatbreads.
4. Top flatbreads evenly with chicken, black beans, corn, onion, and cheese.
5. Bake for 5 to 8 minutes, or until cheese is melted.
6. Top evenly with cilantro and drizzle with lime juice. Serve immediately.
Recipe Tip: Look for barbecue sauce that has an ingredient list that does not contain artificial sweeteners, additives, or preservatives. There are many brands on the market that are sweetened with small amounts of honey, maple syrup, or molasses.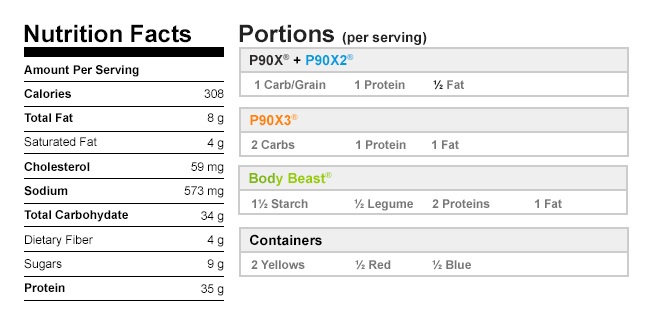 If you have questions about the portions, please click here to post a nutrition question in our forums so our experts can help. Please include a link to the recipe.
Photos by Amanda Mexiner.