My sister-in-law proudly claims to be able to cook just two things. One of those is a chocolate pecan pie that she brings to Thanksgiving dinner every year. It's rich and sugary to an extreme that is off the scale, but it is pretty darned delicious. (The other thing she makes is Sophia Loren's favorite pasta recipe; I didn't want to leave you in suspense.)
No matter how tasty that single piece of pie might be, it's definitely a once-a-year indulgence. I took the flavors of that diet-busting chocolate pecan pie and turned them into something I can enjoy every day, in the form of a rich Shakeology smoothie.
Chocolate Shakeology blended with chopped pecans and — the secret ingredient — caramel extract, give this smoothie a buttery, nutty flavor reminiscent of pie, without all of the excess sugar. To add a little spice, consider a dash of ground ginger, cinnamon, or nutmeg.
Caramel extract has the flavor of real caramel, without any of the guilt. And it can be used in so many different Shakeology recipes, including our Caramel Apple Shakeology, Mocha Caramel Latte Shakeology, and Chocolate Caramel Delight Smoothie. Look for it at Walmart, in the baking aisle of your supermarket, or buy it online.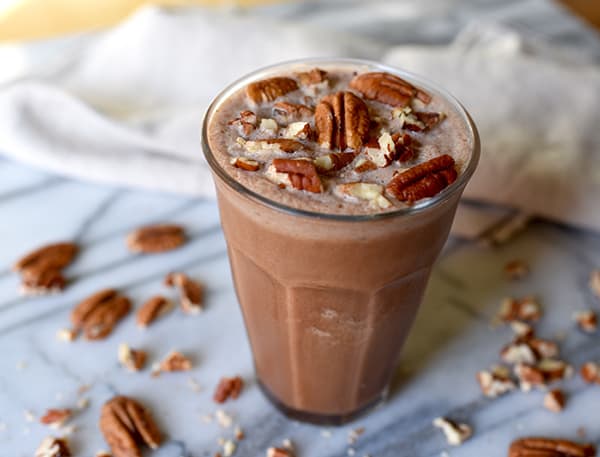 Chocolate Pecan Pie Smoothie
Total Time: 10 min.
Prep Time: 10 min.
Cooking Time: None
Yield: 1 smoothie
Ingredients:
1 cup unsweetened almond milk
1 cup ice
1 scoop Chocolate Shakeology
1 Tbsp. coarsely chopped raw pecans
½ tsp. pure caramel extract
Preparation:
1. Place almond milk, ice, Shakeology, pecans, and extract in blender; cover. Blend until smooth.
Nutritional Information (per serving):
Calories: 253
Total Fat: 10 g
Saturated Fat: 1 g
Cholesterol: 0 mg
Sodium: 336 mg
Carbohydrates: 20 g
Fiber: 8 g
Sugars: 7 g
Protein: 19 g
P90X/X2 Portions
1 Single Serving Snack
1 Protein
½ Fat
P90X3 Portions
1½ Protein
1 Carb
1 Fat
Body Beast Portions
1 Protein Liquid
2 Balanced Liquid
1 Fat
Containers
1 Red
½ Yellow
½ Blue