Candy canes, gingerbread, cookies of all shapes and sizes, marshmallows floating in mugs of hot cocoa… sugary treats abound this time of year. A little bit of indulgence is OK, but between the holiday parties and sugary foodstuffs, it's easy to feel like the entire month of December is a junk-food obstacle course! If you need a break from the sugar rush, here are 11 fun-to-make holiday snacks!
Fruity Candy Cane
Delight your kids with this candy cane from Rabbit Food for My Bunny Teeth. All you need are strawberries, a banana, and a knife!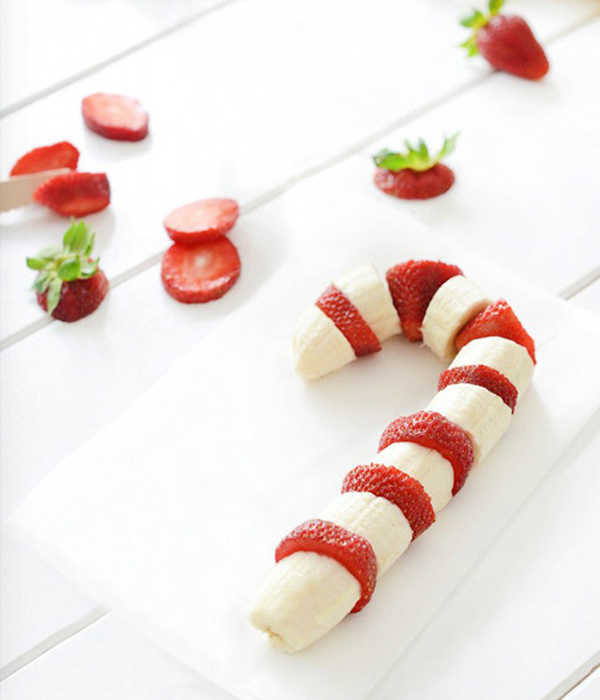 Christmas Tree Pizza
Lunchtime looks delicious with this fun Christmas Tree Pizza idea shared by Caro & Co. Use our recipe for healthy Whole Wheat Pizza Crust and cut out tree shapes before baking. Decorate with your favorite holiday-inspired toppings. Here, sliced olives form garlands. How about topping the pizza in leaves of spinach and decorating with "ornaments" made from red and yellow bell peppers?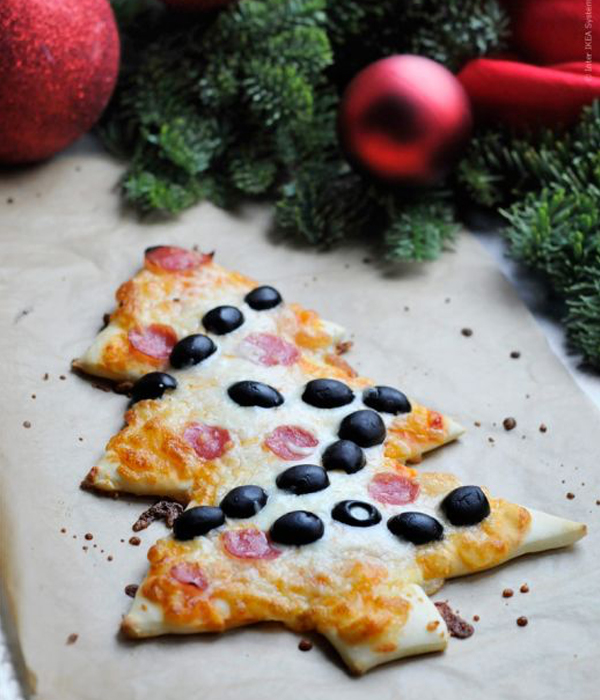 Snowman Hard-Boiled Eggs
Why did the snowman take a dip in boiling water? Because he was made from hard-boiled eggs! These adorable snacks from Roxy's Kitchen are cleverly held together with a stick of dry spaghetti. Carrot slices form hats, sprigs of parsley shape the arms, and buttons and eyes are affixed with black peppercorns (you could also use black sesame seeds). Take it a step further and use a vegetable peeler to make ribbons of zucchini for scarves!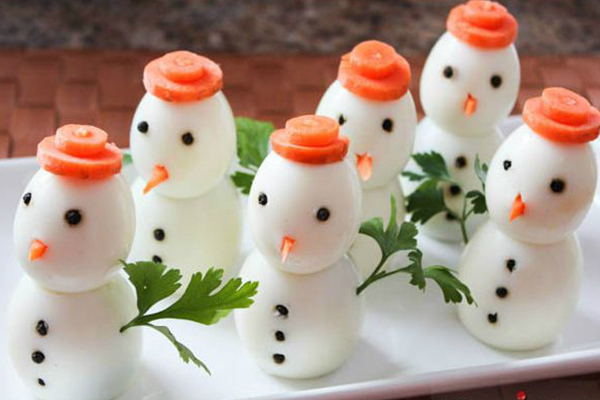 Santa's Belly Cheese Snacks
Ho-ho-ho! Santa's belly is coming to town. Cute Food for Kids wrapped holiday cheer around Babybel individual cheese snacks and used construction paper to craft belts and buckles.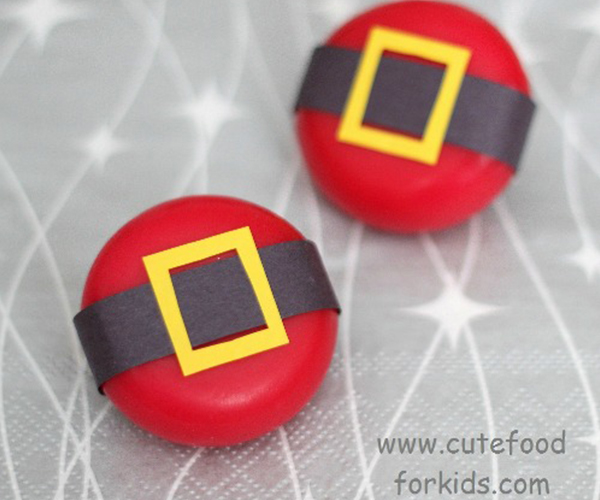 Snowman Snack Platter
This snowman is playing in a winter wonderland! We love this fun, open-faced sandwich idea from Creative Food. Use a cookie cutter to cut out circles of bread and cheese. Add a hat and scarf made from bell peppers, and a sliver of carrot for the nose. This snowman has eyes, a mouth, and buttons made from plum, but you can use black sesame seeds. Popcorn snow is the finishing touch.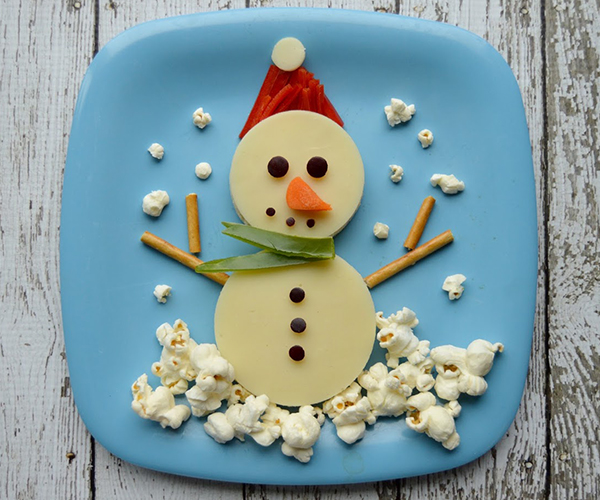 Reindeer Pancakes
Add extra holiday cheer to your morning with these Rudolph the Red-Nosed Reindeer pancakes from Kitchen Fun with My 3 Sons. For a healthier version use Greek yogurt instead of whipped cream, turkey bacon, and our recipe for Cashew and Oat Hotcakes or Multi-Grain Banana Pancakes.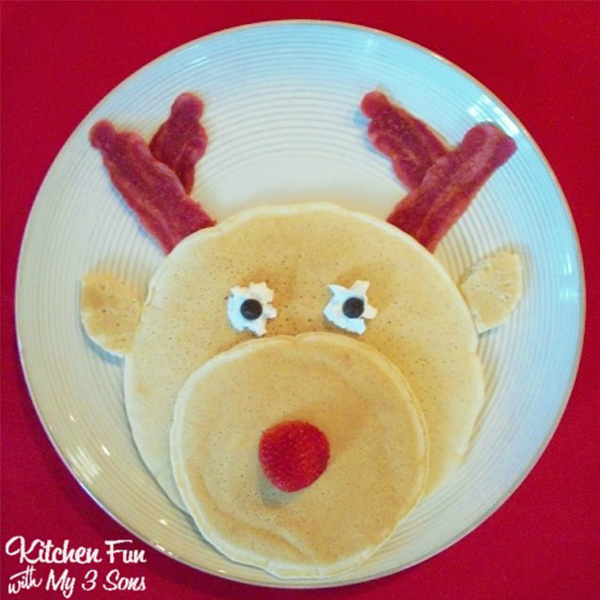 String Cheese Snowmen
When it's too cold outside to build snowmen, let the kids build them inside! To make these cute snacks for her son's preschool class, DigiCrumbs used black card stock for hats, blue ribbon for scarves, and black and orange markers to draw faces (we recommend food safe markers).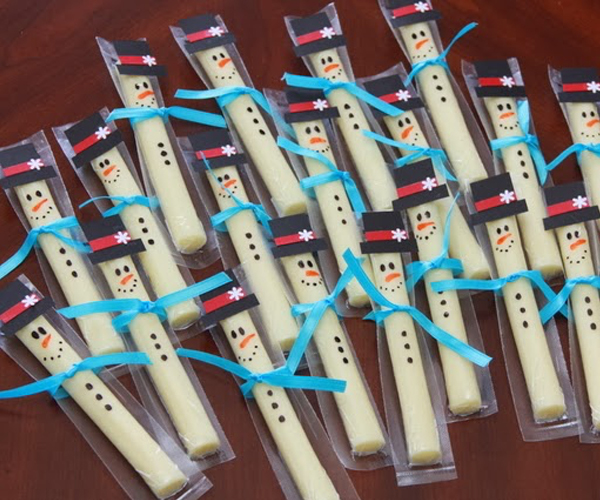 Tortilla Snowflakes
These pretty snowflake-shaped tortillas are dusted with a light sprinkling of Parmesan. They're simple, savory, and kids of all ages will have fun cutting out snowflake shapes. Get the how-to from Carpé Season.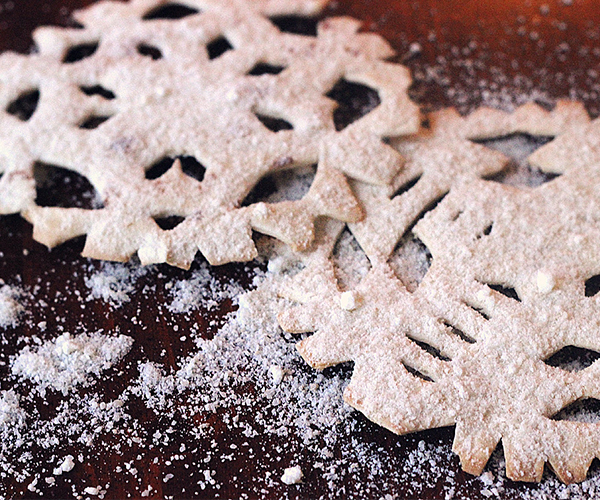 No-Bake Granola Bars
Make your own granola bars like these from Life Made Sweeter. Kids will enjoy mixing the ingredients and pressing them into the pan! For a lighter version, try our recipe for Cranberry Granola Bars.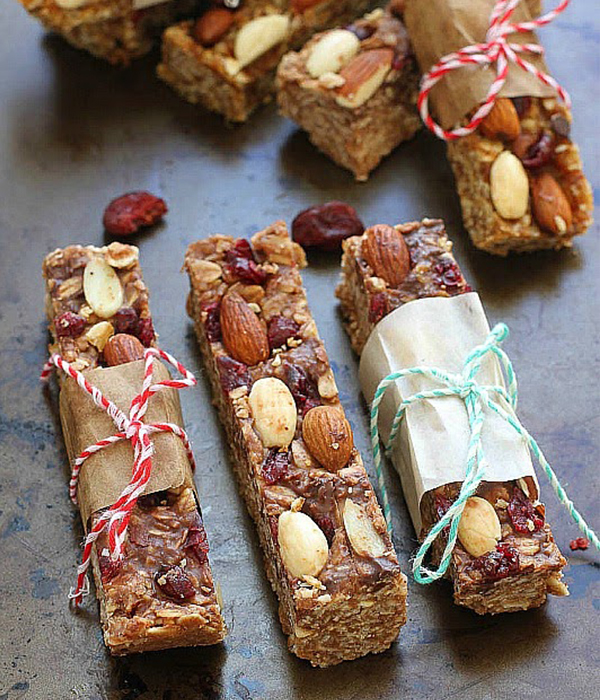 Grinch Grapes
Grapes get a dose of holiday cheer, just like the Grinch did in Dr. Seuss' How the Grinch Stole Christmas, with cute hats made from strawberries, sliced banana, and a miniature marshmallow.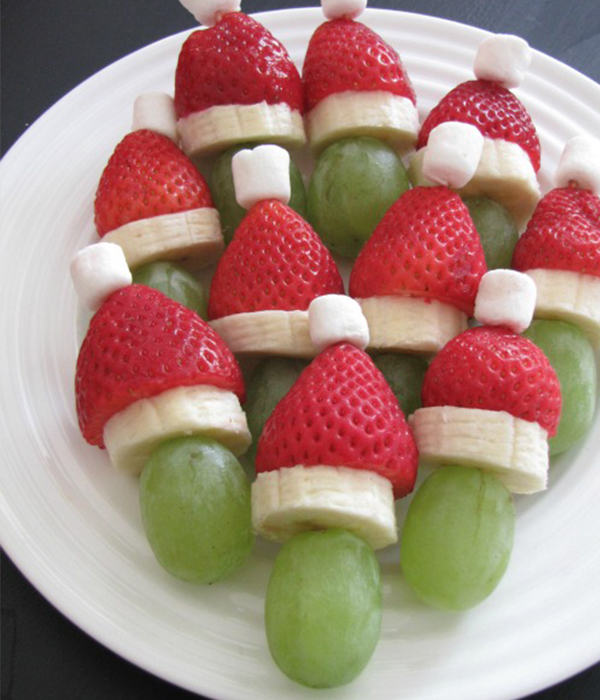 Fruity Christmas Tree
This decorative tree takes a little more effort than the other snacks on this page, but it will make kids (and grownups) ooh and ah, and you'll have a healthy, edible centerpiece for your table. Click to find out how Ginger & Garlic assembled it!

Looking for more holiday treats? Check out this Candy Cane Shakeology, these Gingerbread Protein Pancakes, and these Gingerbread Balls!
What are your favorite holiday snacks? Tell us in the comments!