Meatballs are a versatile addition to almost any meal. They can be served with pasta, as the "meat" in your sandwich, or even served alongside veggies and mashed potatoes. The options are endless. And not only are meatballs delicious, but they are also an excellent choice for meal prep. You can enjoy meatballs fresh from the oven (or slow-cooker) and keep any extras for an exciting leftovers lunch the next day. Anything that can be made for tonight's dinner and tomorrow's lunch is a winner in my books.
I've been craving a vegetarian meatball recipe for ages. As tried-and-true as classic "meaty" meatballs are, I much prefer a lighter plant-based option. These Mushroom and White Bean Meatballs are exactly what I've been hoping for. They're packed with beans, meaning you can count on a source of protein. Mushrooms give them meaty texture and depth of flavor, and the breadcrumbs help bind everything together and give the meatballs a lightly crisp exterior. Fresh lemon juice and herbs add a lot of flavor to this dish — so don't skimp on the oregano, garlic, and red pepper flakes.
What I love about this recipe is that these meatballs have a crunchy exterior, without the need for excess oil. Once you shape the meatballs, you'll roll them in a savory herb and breadcrumb coating. In the oven, the coating will crisp up and turn golden brown. This step mimics that crunch you get from fried foods, without the frying. Genius!
To speed up the process, and get uniform portions, I like to use a small ice cream scoop to shape the meatballs. Ice cream scoops with a trigger-activated release are the best, and with one, you can whip out dozens of perfectly shaped meatballs in no time. But if you don't have one on hand, not to worry, a measuring spoon works just fine.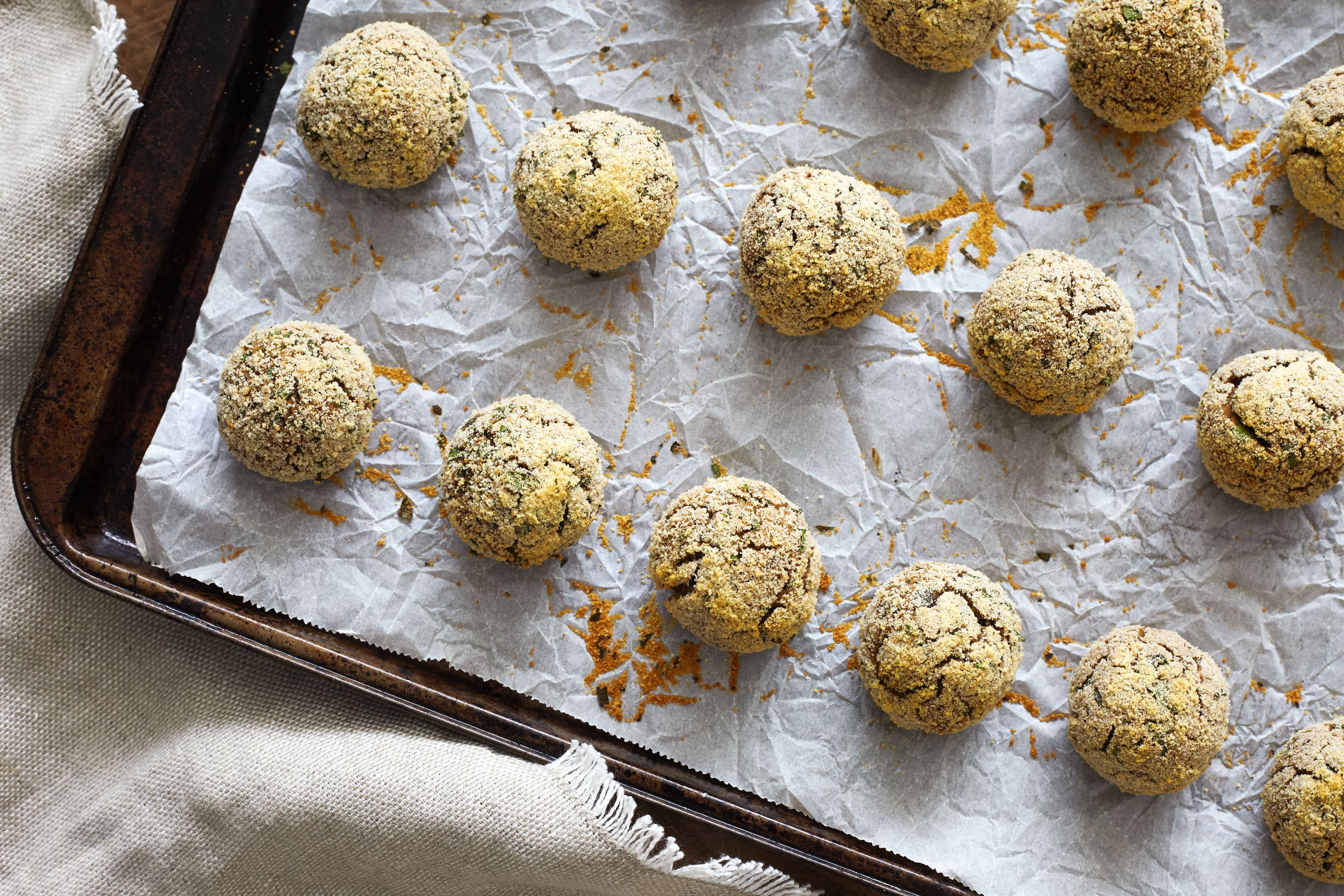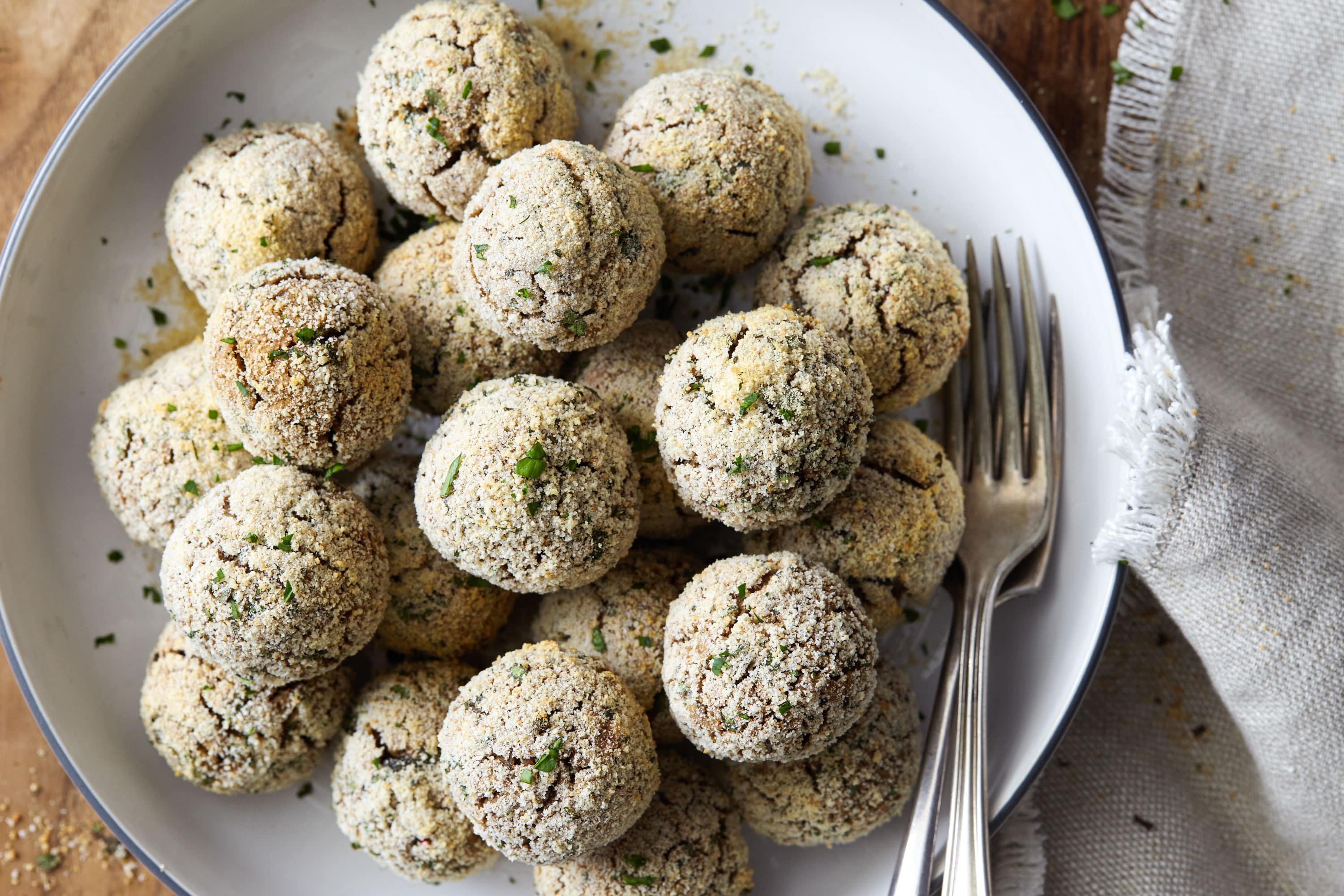 Mushroom and White Bean Meatballs
Total Time: 54 min.
Prep Time: 15 min.
Cooking Time: 39 min.
Yield: 5 servings, 4 to 5 meatballs each
Ingredients:
1¼ cups whole grain bread crumbs, divided use
4 Tbsp. chopped fresh parsley, divided use
½ tsp. sea salt (or Himalayan salt), divided use
2 tsp. olive oil
¾ medium onion, chopped
2 cloves garlic, finely chopped
8 oz. button (or white or brown) mushrooms, chopped
1 (15-oz.) can cannellini beans, drained, rinsed
1 tsp. dried oregano leaves
½ tsp. ground black pepper
½ tsp. crushed red pepper flakes (optional)
2 Tbsp. fresh lemon juice
Preparation:
1. Preheat oven to 375° F.
2. Line a large baking sheet with parchment paper. Set aside.
3. Combine ¼ cup bread crumbs, 2 Tbsp. parsley, and ¼ tsp. salt in a medium bowl; mix well. Set aside.
4. Heat oil in medium skillet over medium-high heat.
5. Add onion; cook, stirring frequently, for 4 to 6 minutes, or until onion is translucent.
6. Add garlic and mushrooms; cook, stirring frequently, for 2 to 3 minutes
7. Add beans, oregano, remaining ¼ tsp. salt, pepper, red pepper flakes (if desired); cook, stirring frequently, for 1 to 2 minutes.
8. Place onion mixture and lemon juice in food processor (or blender), in two or more batches, if necessary; cover with lid and kitchen towel. Pulse until well mixed.
9. Add remaining 2 Tbsp. parsley and remaining 1 cup breadcrumbs. Pulse until well mixed. Let mixture rest for 5 minutes.
10. Shape onion mixture into balls, about 1 Tbsp. each. Roll each ball in bread crumb mixture. Place on prepared baking sheet. Bake for 30 minutes.
Nutritional Information (per serving):
Calories: 230
Total Fat: 4 g
Saturated Fat: 1 g
Cholesterol: 0 mg
Sodium: 586 mg
Carbohydrates: 36 g
Fiber: 6 g
Sugars: 6 g
Protein: 10 g
P90X/P90X2 Portions
1 Grain/Legume Carb
½ Vegetable
P90X3 Portions
2½ Carbs
½ Fat
Body Beast Portions
½ Starch
1 Legume
2 Vegetables
½ Fat
Containers
½ Green
2 Yellow
½ tsp.
If you have questions about the portions, please click here to post a nutrition question in our forums so our experts can help. Please include a link to the recipe.
Photographs by Anguel Dimov and Brianne B of Natural Girl Modern World