Let's talk about all the reasons we love pumpkin. It's a clean, natural, low-calorie ingredient that can be used in both savory and sweet dishes. Like these pumpkin muffins with maple cream cheese, or Pumpkin Risotto and Pumpkin Pizza with Kale, I could go on and on. It adds flavor and moisture to any dish. It's got tons of antioxidants, vitamins and minerals. You can eat the seeds, and maybe my favorite part, it comes ready to use in a can for less than $5. Convenience is key!
These pumpkin muffins with maple cream cheese are a surprisingly healthy treat from Autumn Calabrese's FIXATE cookbook. They make great use of America's favorite fall squash by using it as the base for scrumptious spiced cakes with a surprise filling of maple-sweetened cream cheese in the center.
This recipe calls for pure maple syrup, which is an important distinction. Many of the pancake and maple-flavored syrups found in grocery stores aren't maple syrup at all, and can be filled with artificial sweeteners and colors that may be more harmful than helpful. So here we're sticking to the pure stuff that comes out of a tree.
This recipe also calls for almond flour, which is gluten free and lower in carbohydrates than traditional wheat flour. Plus, its nutty taste is a perfect compliment to this autumnal recipe. If you've got the time to make your own, directions are in the tips below. And for those of you with nut allergies or intolerances, feel free to substitute with coconut flour.
Now that we've gotten the details out of the way, these pumpkin muffins with maple cream cheese are a perfect fall treat to bring to work. A tasty, healthy alternative to sugary donuts, baking a fresh batch of these for your coworkers will definitely earn you points around the office, and not on the scale. If you're not one for bringing treats to the office, they also make for a fantastic mid-day snack. But how ever you decide to serve these sweet, healthy treats — happy baking!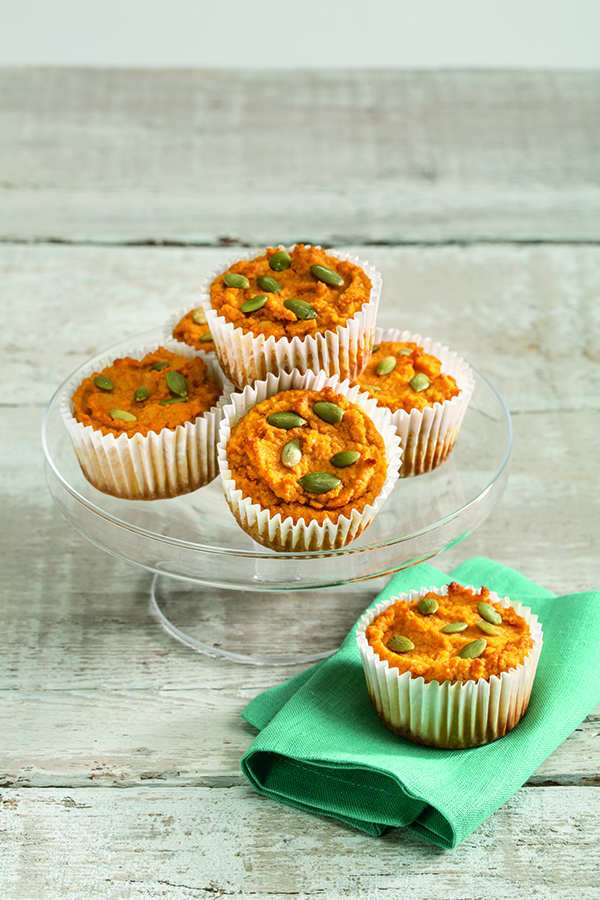 Pumpkin Muffins with Maple Cream Cheese
Total Time: 33 min.
Prep Time: 15 min.
Cooking Time: 18 min.
Yield: 9 servings, 1 muffin each
Ingredients:
2 oz. cream cheese
1 Tbsp. pure maple syrup
1 large egg, lightly beaten
1 cup canned pumpkin puree
1½ cups almond flour
¾ tsp. baking soda, gluten-free
1 dash sea salt (or Himalayan salt)
2 Tbsp. raw pumpkin seeds
Preparation:
1. Preheat oven to 350° F.
2. Prepare nine muffin cups by lining with muffin tin liners or coating with spray. Set aside.
3. Combine cream cheese and maple syrup in a small bowl; mix well. Set aside.
4. Combine egg and pumpkin in a medium bowl; mix well. Set aside.
5. Combine almond flour, baking soda, and salt in a medium bowl; mix well.
6. Add almond meal mixture to egg mixture; mix until just blended.
7. Spoon batter into each prepared muffin cup, filling a little less than ½ full.
8. Spoon about 1 heaping tsp. cream cheese mixture into the center of each muffin. Evenly fill muffin cups ¾ full with remaining batter.
9. Sprinkle muffins evenly with pumpkin seeds.
10. Bake 18 to 22 minutes, or until golden brown and toothpick inserted into the center comes out clean.
11. Transfer muffins to rack; cool.
Tips: 
You can make your own almond flour by processing 1 cup slivered almonds in food processor (or blender with a strong motor). Make sure that you pulse in 20-second intervals to prevent the almonds from turning into almond butter. 1 cup of slivered almonds yields approximately 1 cup of almond flour.
If you can't find almond flour in your store, you can look at club stores or online.
If you have questions about the portions, please click here to post a nutrition question in our forums so our experts can help. Please include a link to the recipe.