In contrast to my fast-paced city life, strawberry lemonade seems like something from a quieter, simpler time. It's a beverage my grandmother would have made from scratch on her chicken ranch, squeezing lemons from her tree and stirring in mashed strawberries from the clay pot on her patio. With that in mind, it seems most appropriate to sip strawberry lemonade while lounging in a hammock on a shady porch.
That's the idea I wanted to capture with this summery recipe that combines tart lemon and sweet strawberries in a snack that's part cookie (to satisfy your sweet tooth) and part energy bar (to fuel your workouts). The result is this recipe for Strawberry Lemonade Bars that taste an awful lot like those Strawberry Shortcake Ice Cream popsicles you loved as a kid.
Hearty, old-fashioned rolled oats, unsweetened coconut flakes, and Strawberry Shakeology make up the base of these bars. Those dry ingredients get blended in a food processor with honey, naturally sweet Medjool dates, juicy strawberries, and a generous two tablespoons of coconut oil to create the texture of a soft cookie. The finishing touch is freshly grated lemon zest which give them zippy citrus flavor.
When mixed, the mixture will be a bit sticky. Wet your fingers (or a rubber spatula) and press the mixture into a dish lined with plastic wrap. This keeps the bars from sticking to the dish and makes it easy to lift the whole batch out for easy cutting. An hour in the fridge helps the mixture firm up, and allows to the oats to absorb more of the flavor from the strawberries. If you're in a hurry, you can place them in the freezer for about 20 minutes instead.
When they're firm, cut these strawberry lemonade delights into eight bars, each about the size of a chewy granola bar. One bar is a filling snack with five grams of fiber and six grams of protein to keep you satisfied between meals. If energy balls are more your style, or you want a lower-calorie snack, you can roll the mixture into 16 balls instead of pressing it into a dish. If you do, each ball will be about half the calories of a bar.
Watch the video below to see how they're made!
Strawberry Lemonade Shakeology Bars
Total Time: 1 hr. 10 min.
Prep Time: 10 min.
Cooking Time: None
Yield: 8 servings, 1 bar each
Ingredients:
2 cups old-fashioned rolled oats
1 cup unsweetened shredded coconut
2 Tbsp. raw honey
4 Medjool dates, coarsely chopped
½ cup sliced strawberries
2 tsp. finely grated lemon peel (lemon zest)
2 Tbsp. extra-virgin organic coconut oil
1 scoop Strawberry (or Vanilla) Shakeology
1 tsp. pure vanilla extract
¼ tsp. sea salt (or Himalayan salt)
Preparation:
1. Line an 8 x 8-inch pan with plastic wrap (or aluminum foil). Set aside.
2. Place oats, coconut, honey, dates, strawberries, lemon peel, oil, Shakeology, extract, and salt in a food processor (or blender). Pulse until smooth. Mixture will be sticky.
3. Press oat mixture into prepared pan. Cover with plastic wrap and press down to flatten into pan. Refrigerate for 1 hour so that bars set.
4. Cut into eight bars.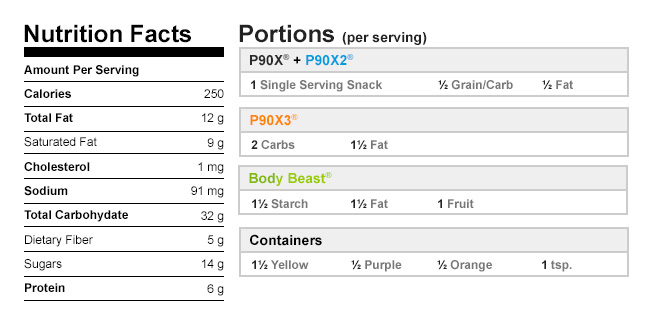 If you have questions about the portions, please click here to post a nutrition question in our forums so our experts can help. Please include a link to the recipe.