These tasty salmon appetizers will disappear quickly at party, or double the serving and have with steamed vegetables for a delicious lunch or dinner.
Total Time: 1 hr. 15 min.
Prep Time: 10 min.
Cooking Time: 5 min.
Yield: 6 servings
Ingredients:
¼ cup reduced sodium soy sauce
2 Tbsp. water
1 thin slice fresh ginger, finely chopped
1 clove garlic, finely chopped
1 Tbsp. raw honey
1 lb. raw salmon, cut into 1-inch cubes
1 Tbsp. coconut oil
1 tsp. sesame seeds
1 green onion, thinly sliced (for garnish; optional)
Preparation:
1. Combine soy sauce, water, ginger, garlic, and honey in a medium bowl; whisk to blend.
2. Add salmon; toss gently to coat. Refrigerate, covered, for at least 1 hour.
3. Heat oil in a medium saucepan over medium heat.
4. Place salmon in an even layer in saucepan; cook for 2 minutes, turn each salmon cube, cook for an additional 1 to 2 minutes, or until salmon flakes easily when tested with a fork.
5. Place salmon on a serving plate. Sprinkle with sesame seeds and green onion (if desired). Place a toothpick in each piece of salmon.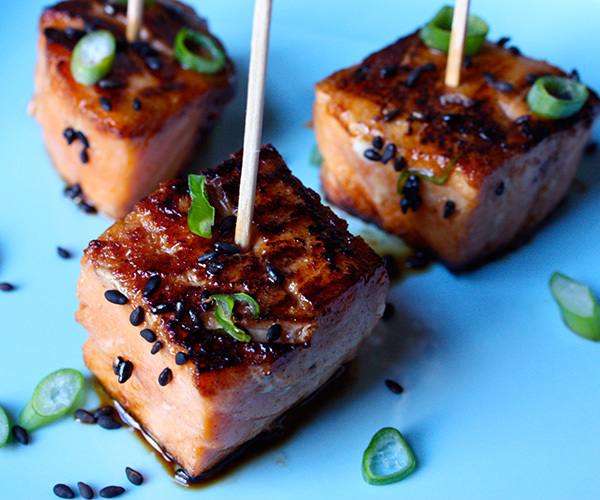 Nutritional Information (per serving):
Calories: 147
Total Fat: 7 g
Saturated Fat: 3 g
Cholesterol: 42 mg
Sodium: 387 mg
Carbohydrates: 4 g
Fiber: 0 g
Sugar: 3 g
Protein: 16 g
P90X/P90X2 Portions
1 Protein
1 Condiment
P90X3 Portions
1 Protein
1 Fat
Body Beast Portions
2 Proteins
1 Fat
Containers
½ Red
½ Yellow
1 tsp.
If you have questions about the portions, please click here to post a question in our forums so our experts can help. Please include a link to the recipe you're asking about.
Photos by Kirsten Morningstar