I don't know about you, but I never outgrew my childhood love of macaroni and cheese. I still indulge in this delicious dish now and then, but these days I like to make it with a twist.
Macaroni and cheese typically consists of only a few ingredients, primarily noodles, butter, milk, and tons of cheese. While immensely delicious, the classic version isn't exactly a well-rounded meal. So, this recipe gives macaroni and cheese casserole a much needed makeover. It retains its creamy and cheesy appeal, with healthy upgrades that make this dish nourishing for the whole family (so does this recipe made with butternut squash).
This three cheese macaroni casserole recipe takes this dish to the next level. A hearty amount of ricotta cheese provides most of the creaminess in the dish. And, because part-skim ricotta is low in fat and packed with protein, it contributes a lot to the 18 grams of protein per serving, without cranking up the fat and calories. The mozzarella melts beautifully in the oven, adding creaminess and those long strands of melty cheese that stretch as you lift each each bite to your mouth. Yum. And finally, the Parmesan cheese gives the dish a bit of sophisticated je ne sais quoi.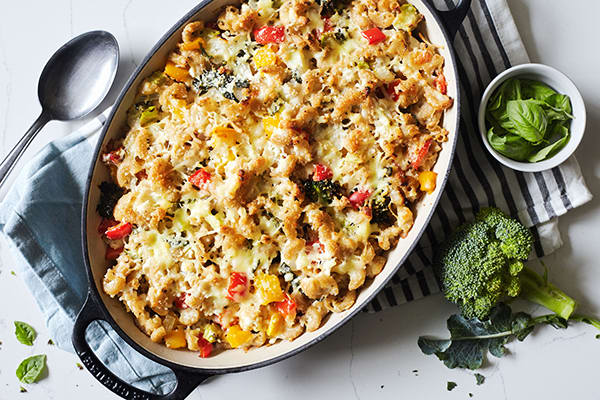 In order to make this macaroni casserole more wholesome, there's a hefty serving of vegetables nestled in all that melted cheese. Red and yellow peppers and broccoli provide a pop of color, without detracting from the indulgent flavor of this dish. The recipe also calls for whole wheat macaroni noodles, instead of pasta made from refined flour. You can use any whole grain pasta, or even those made from lentils or beans! Once covered with cheese, nobody will be the wiser.
You could technically make this dish on the stovetop, and serve it right away, but I highly recommend baking it in the oven. The oven helps get the noodles piping hot, and makes the cheese turn golden brown and bubbly. You won't need to call your family down to the table, because the smell of melted cheese is enough to make anyone's mouth water!
Three Cheese Macaroni Casserole
Total Time: 1 hr. 18 min.
Prep Time: 20 min.
Cooking Time: 58 min.
Yield: 10 servings, about 1½ cups each
Ingredients:
1 lb. dry whole wheat macaroni (or penne pasta)
1 Tbsp. olive oil
1 medium onion, chopped
1 medium red bell pepper, chopped
1 medium yellow bell pepper, chopped
2 cups chopped broccoli
2 cloves garlic, chopped
2½ cups part-skim ricotta cheese
1 cup shredded mozzarella cheese
¼ cup Parmesan cheese
¼ cup chopped fresh basil
Sea salt (or Himalayan salt) and ground black pepper (to taste; optional)
Nonstick cooking spray
Preparation:
1. Preheat oven to 375° F.
2. Cook macaroni according to package directions. Drain and set aside.
3. Heat oil in large nonstick skillet over medium-high heat.
4. Add onion, bell peppers, and broccoli; cook, stirring frequently, for 4 to 6 minutes, or until onion is translucent.
5. Add garlic; cook, stirring frequently, for 1 minute. Remove from heat. Set aside.
6. Combine ricotta cheese, mozzarella cheese and Parmesan cheese in a large bowl; mix well.
7. Add macaroni, onion mixture, and basil; mix well.
8. Season with salt and pepper if desired; mix well.
9. Place macaroni mixture in a 13 x 9-inch ceramic (or glass baking dish) that has been coated with spray. Bake for 25 to 30 minutes, or until cheese is bubbling.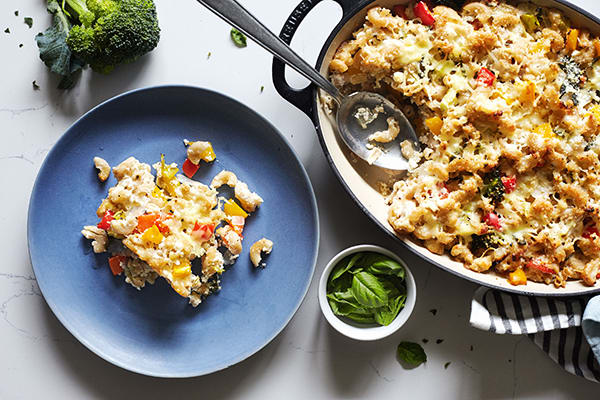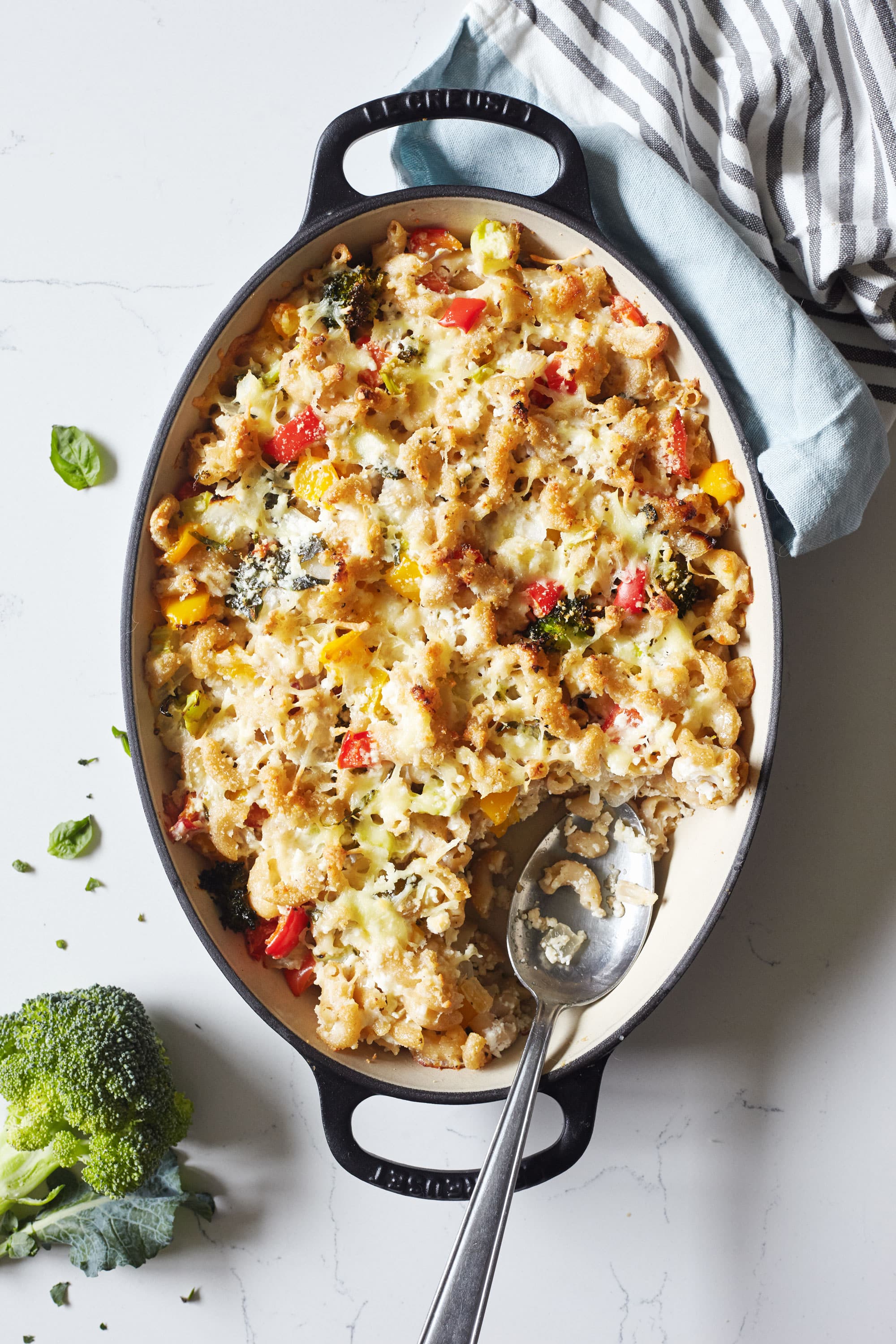 Nutritional Information (per serving):
Calories: 307
Total Fat: 10 g
Saturated Fat: 5 g
Cholesterol: 27 mg
Sodium: 237 mg
Carbohydrates: 41 g
Fiber: 6 g
Sugars: 3 g
Protein: 18 g
P90X/P90X2 Portions
1 Vegetable
1 Dairy
1 Grain Carb
P90X3 Portions
1 Protein
3 Carb
Body Beast Portions
2 Vegetable
2 Protein
2½ Starch
Containers
½ Green
2 Yellow
1 Blue
If you have questions about the portions, please click here to post a nutrition question in our forums so our experts can help. Please include a link to the recipe.
Photographs by Anguel Dimov and Brianne B of Natural Girl Modern World