What should you do when you wake up the morning after Thanksgiving to a fridge full of leftovers? This, for starters. We created the perfect post-Turkey Day frittata recipe with leftover white meat and roasted Brussels sprouts. Add sweet potatoes and other veggie leftovers in place of Brussels sprouts if you prefer.
This recipe can be made any time of year with rotisserie chicken and any of your favorite vegetables. It tastes great warm or cold. Frittata is not just for breakfast. This savory, high-protein meal makes a great lunch to take to work, and we love it for dinner.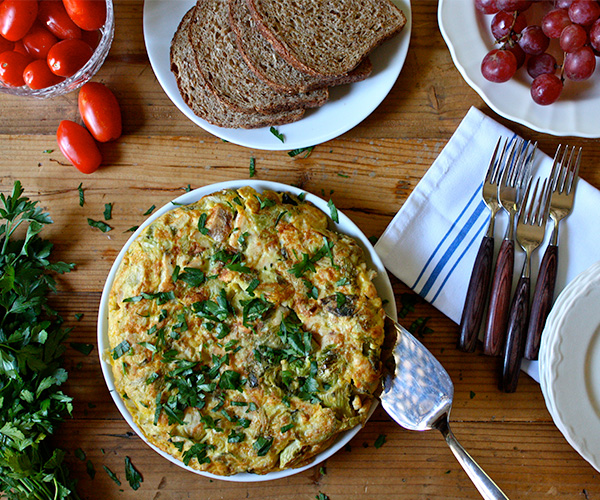 Turkey and Brussels Sprouts Frittata
Total Time: 30 min.
Prep Time: 15 min.
Cooking Time: 15 min.
Yield: 6 servings
Ingredients:
6 large eggs, lightly beaten
¼ tsp. sea salt (or Himalayan salt)
1 tsp. olive oil
2 medium shallots, finely chopped
3 cups finely chopped fresh Brussels sprouts
2½ cups chopped roasted turkey breast (approximately 12 oz.)
2 Tbsp. chopped fresh flat leaf (Italian) parsley
Preparation:
1. Preheat oven to broil.
2. Combine eggs and salt in a medium mixing bowl; whisk to blend. Set aside.
3. Heat oil in 12-inch nonstick oven safe skillet over medium-low heat.
4. Add shallots and Brussels sprouts; cook, stirring frequently, for 4 to 5 minutes, or until shallots are translucent.
5. Pour egg mixture and turkey into skillet; cook, stirring frequently with rubber spatula, for 4 to 5 minutes, or until egg mixture has set on the bottom and begins to set on top.
6. Place skillet in oven. Broil for 3 to 4 minutes, or until lightly browned and fluffy.
7. Cut into 6 servings.
8. Sprinkle with parsley; serve immediately.
Tips:
• Frittata can be made the evening before and stored in the refrigerator for up to 4 days in an airtight container.
• Heat one serving at a time on the stove-top or in a toaster oven or microwave.
• You can substitute chopped, cooked Brussels sprouts for fresh ones.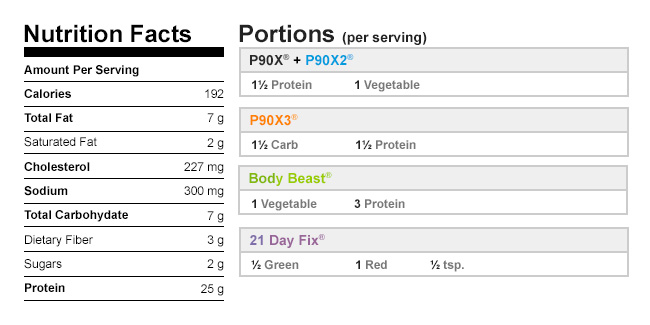 If you have questions about the portions, please click here to post a question in our forums so our experts can help. Please include a link to the recipe you're asking about.