This mashed potato and turkey shepherd's pie is comfort food at it's very best. Our recipe is lean and filled with veggies, so it will warm your belly without adding to your waistline.
This shepherd's pie is a great way to use leftover turkey and mashed potatoes. You can also substitute rotisserie chicken. If you prefer to use ground turkey, just cook it before the first step and set aside, then proceed with the recipe as written.
Total Time: 1 hr. 20 min.
Prep Time: 20 min.
Cooking Time: 1 hr.
Yield: 6 servings, about 1 cup each
Ingredients:
1 tsp. olive oil
1 medium onion, chopped
1 medium carrot, chopped
4 oz. sliced mushrooms
2 cloves garlic, finely chopped
1 tsp. finely chopped fresh thyme
2¼ cups chopped roasted turkey breast (approximately 11 oz.)
1 Tbsp. whole wheat flour
½ cup low-sodium organic vegetable (or beef) broth
½ tsp. sea salt (or Himalayan salt), divided use
½ tsp. ground black pepper, divided use
½ cup frozen peas
Hot water
12 oz. Yukon gold potatoes, peeled, cut into cubes
½ small head of cauliflower, cut into florets
¼ cup reduced-fat (2%) milk, warm
1 Tbsp. organic grass-fed butter
Preparation:
1. Heat oil in large nonstick skillet over medium heat.
2. Add onion and carrot; cook, stirring frequently, for 4 to 5 minutes, or until onion is translucent.
3. Add mushrooms, garlic, and thyme; cook, stirring frequently, for 6 to 8 minutes, or until mushrooms are soft and most of the liquid has evaporated.
4. Add turkey and flour; cook, stirring frequently, for 2 minutes.
5. Add broth, ¼ tsp. salt, and ¼ tsp. pepper; bring to a boil, stirring frequently.
6. Add peas; mix well. Place turkey mixture in a 2-quart baking dish. Set aside.
7. Preheat oven to 350° F.
8. Boil water in steamer or large saucepan over high heat. Reduce heat to medium-high. Place potatoes in steamer basket; cook for 10 minutes.
9. Add cauliflower; cook for 8 to 10 minutes, or until potatoes and cauliflower are tender. Remove from heat.
10. Mash potatoes, cauliflower, milk, butter, remaining ¼ tsp. salt, and remaining ¼ tsp. pepper in a medium bowl with a potato masher until smooth. (Add additional milk if mixture is too dry.)
11. Evenly top meat mixture with potato mixture.
12. Bake for 15 to 20 minutes, or until heated through.
13. Serve immediately or cover and refrigerate for up to 4 days.
Variations:
Mashed Potatoes – Substitute 2 to 3 cups leftover mashed potatoes for potato, cauliflower, milk, and butter mixture.
Sweet Potatoes – Substitute 1½ lbs. sweet potatoes for potatoes and cauliflower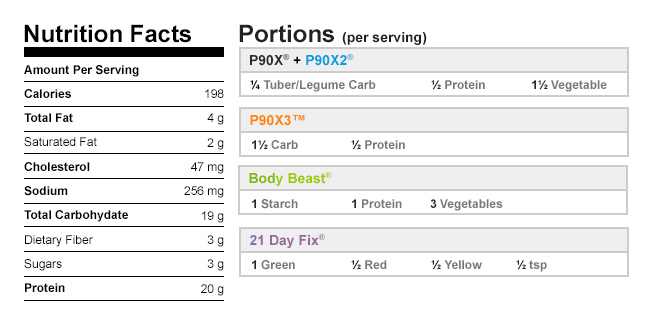 If you have questions about the portions, please click here to post a question in our forums so our experts can help. Please include a link to the recipe you're asking about.