Put a Mexican twist on Thanksgiving leftovers with these crispy turkey tostadas. Leftover turkey breast totally transforms in this dish when it is mixed with tomatillo salsa, becoming a tasty lunch or dinner that's high in protein. Top with shredded lettuce, onion and Monterey jack cheese, and dig in!
This recipe can also be used to make nachos. Just slice the tortillas into wedges before baking. Top crisped chips with turkey mixture, onions, and cheese and then bake until cheese melts. Top with lettuce and serve!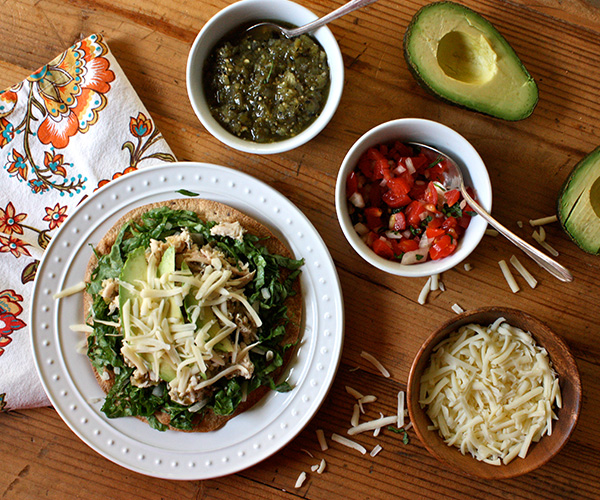 Turkey Tostadas
Total Time: 13 min.
Prep Time: 5 min.
Cooking Time: 8 min.
Yield: 4 servings
Ingredients:
4 (8-inch) whole wheat tortillas
Nonstick cooking spray
½ cup tomatillo salsa
1½ cups shredded roasted turkey breast (approximately 7 oz.)
2 cups finely shredded leaf lettuce
¼ cup chopped onions
½ cup shredded Monterey jack cheese
½ medium ripe avocado, sliced
Preparation:
1. Preheat oven to 400° F.
2. Lightly coat both sides of tortillas with spray. Place tortillas in single layer on two large baking sheets. Bake for 6 to 8 minutes, or until golden. Set aside.
3. While tortillas are baking, heat salsa in medium nonstick skillet over medium-high heat.
4. Add turkey; cook, stirring frequently, for about 2 to 3 minutes, or until turkey is evenly coated and heated through.
5. To serve, place a tortilla on each serving plate. Top evenly with lettuce, turkey mixture, onion, cheese, and avocado.
Nutritional Information (per serving):
Calories: 325
Total Fat: 12 g
Saturated Fat: 4 g
Cholesterol: 56 mg
Sodium: 465 mg
Carbohydrates: 28 g
Fiber: 5 g
Sugars: 3 g
Protein: 24 g
P90X/P90X2 Portions
½ Vegetable
½ Protein
½ Grain Carb
½ Condiment
1 Fat
P90X3 Portions
1 Protein
2 Carbs
2 Fats
Body Beast Portions
2 Vegetables
2 Proteins
1 Starch
2 Fats
Containers
½ Green
½ Red
1½ Yellow
1 Blue
If you have questions about the portions, please click here to post a question in our forums so our experts can help. Please include a link to the recipe you're asking about.
Photos by Kirsten Morningstar