Dan Paolucci lost 50 lbs. in 111 days with INSANITY MAX:30, Shakeology, and the Beachbody Performance supplements. He shared his results with the Beachbody Challenge contest, and won $1,500!

What inspired you to change your life and begin your transformation journey?
I started slowly getting back to working out and eating healthy in March 2016. It wasn't until August 1st, the day after I returned from Summit, that I went all in. I was stretching before my workout on Day 1. I was lying on the floor looking up at the ceiling. I was really unhappy that day. I felt lost. I felt like giving up. So, I decided to fight. I told myself that my only option in life is to go all in with my health and fitness. In order to live a healthy, happy, and fulfilling life, I needed to get in shape and feel amazing. From that point forward, I was going to live my life to my fullest potential, do exactly what I want with my life, and spend the rest of my life inspiring others to take action with their health and fitness. That is exactly what I have been doing and exactly what I will continue to do.
What in particular did you like about the program you chose?
I love the intensity of INSANITY MAX:30. It is as much of a mental workout as it is a physical workout. You have to push yourself to fight through every single second. It is so rewarding and makes you feel amazing!! This program has helped me realize that I am so much stronger than I had ever imagined.
Describe the results you achieved with your Beachbody program. Which achievements are you proud of?
I am so proud of my physical results! I have lost 50 pounds. I am a size medium in shirts and a size 34 in pants! What?! Yup! I'm starting to see my abs. I look and feel ammazinggg! The internal transformation is the most important part. I am happy. I am confident. I am the most optimistic I have ever been. Life is so good! I am happy to be alive and so excited for the future.
How has your life changed since completing your Beachbody program?
I am truly happy for the first time in my life. I know that I am capable of anything. My confidence is high. I am a lot more outgoing and am having a lot of new and exciting experiences. I know that Beachbody, Shaun T, INSANITY MAX:30, my Coach Jessica, and the support from our team, DARE 2 DREAM, have all played a major role in changing my life.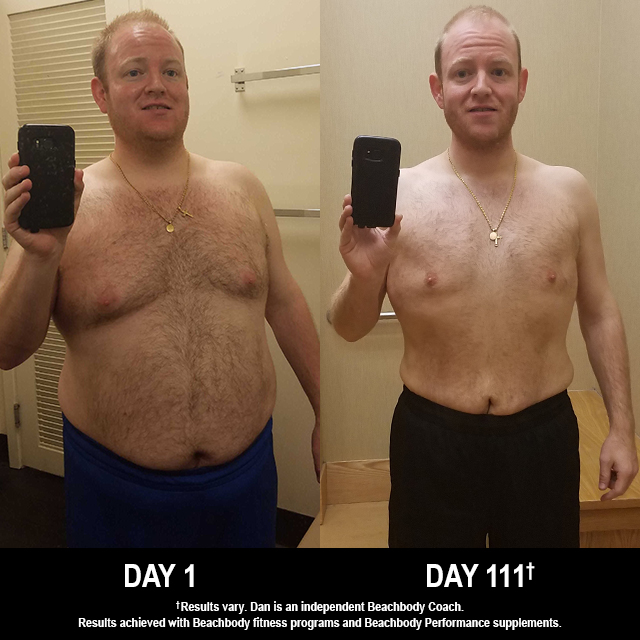 How did participating in a Challenge Group help you reach your goals? How did your group support you and keep you accountable?
I love my Challenge Group! It is one of the most important factors in my success! Our group is so supportive of each other! We celebrate our victories. We hold each other accountable. We lift each other up when we are down. We are a team! I love these people!
How did your Team Beachbody Coach support you on your journey?
When Beachbody gave me Jessica Nelson as my free Coach, I was truly blessed. She has been an amazing friend and Coach since Day 1. When I would slip away into my depressed mode, she would always check on me. She has helped me get through a lot of tough times. I tried cancelling my trip to Summit back in the summer. I am so grateful that she talked me out of it. She knew how unhappy I was. She knew how much I needed to be there. She knew being with our team was what I needed. She was so right. I was sad going into Summit. Being around everyone was the kickstart I needed. I've been crushing it ever since. I honestly don't know where I'd be if I didn't go to Summit. I am grateful I went.
How did a Beachbody supplement, nutritional product, or program (such as Shakeology or Beachbody Ultimate Reset) support your transformation? What are the greatest benefits you gained? Did you see benefits to your energy, sleep, mood/mental clarity, or digestion/regularity?
I drink Shakeology every single day! Love it! It makes me feel amazing, curbs my appetite, and gives me energy. My favorite is Chocolate blended with peanut butter and a banana. So good! I drink Beachbody Performance Energize every day too! It gives me the boost I need to crush my workouts!2
Tell us about your experience with Beachbody On Demand. If applicable, how has it helped you achieve your goals?
I use Beachbody On Demand every single day. I love being able to stream my workouts wherever. It makes pressing play super easy! I love that it is a one-stop place for all of my workout programs.
You can change your life, too. Take the Beachbody Challenge for the tools you need to Decide, Commit, and Succeed! Complete any Beachbody program, and enter your results for a free gift and a chance to win cash and prizes. What program are you committing to next?

†Results vary depending on starting point and effort.
2These statements have not been evaluated by the Food and Drug Administration. This product is not intended to diagnose, treat, cure, or prevent any disease.