David Doyle lost 50 pounds lbs with INSANITY MAX:30, Shakeology, and the Beachbody Performance supplements. Here's the story that he shared with the Beachbody Challenge contest.
Tell us about your life before you started the program. How did you feel about yourself and your body?
Before starting MAX:30 I had just finished up a 30-day clean eating challenge. I was spending 1.5hrs/5 days a week at the gym doing strength training and cardio each day. I was not seeing the results I wanted and was tired of spending so much time with so little return on my investment. I was on an elliptical when I first saw the MAX:30 infomercial. I would continue to watch it day after day when I finally decided that it was time to stop the gym and get serious about my fitness. I couldn't play with my kids due to being so overweight and out of shape. This was devastating to me and helped me realize that I had to make a change now!
What inspired you to change your life and begin your transformation journey?
In July 2015, I was diagnosed with sleep apnea. I require a Continuous Positive Air Pressure (CPAP) machine to ensure I keep breathing while I sleep. I am a husband and a father of 2 beautiful children, and when I was told that I needed a machine to help me breathe at night, it was a real wake up call. The doctor told me that I wouldn't always need the machine and that if I lost around 40 lbs then I could go back for another sleep study. I had two choices, I could just live with the fact I required a machine to keep my breathing at night or use the machine until I got the weight off. Needless to say, I chose the latter. This, combined with weighing the most I've ever weighed in my life and wearing the biggest clothes I've ever worn, made me wake up and realize something needed to change. My quality of life wasn't what I desired and I desperately needed to do something about it. My doctor's words were empowering and set me on a course that would literally change my life.3
What is the greatest challenge you faced before beginning the program? How did the program and Beachbody® help you overcome that challenge?
Everyday tasks were challenging, like playing with my kids, tying my shoes, climbing stairs all while getting incredibly winded. I was depressed because I realized how far I had let myself go, and I could see how sad my kids were being unable to play with their dad. That all changed with INSANITY MAX:30 and Beachbody. After losing 50 lbs with MAX:30, I went back to my doctor, and the first thing he asked me was if I had surgery. I haven't used my CPAP machine for months and I sleep on my back, mouth open and no snoring. I have more energy than I've had since I was a kid, I'm more confident, I'm an INSANITY Live instructor, I'm working on my PT cert, and on and on!1
What in particular did you like about the program you chose?
No equipment, 30 minutes, and a modifier. With MAX:30 I felt that I could do the modified track and still get amazing results. Overall I would say I modified 75% of the time. I'm starting one more round and will push myself even harder to get even better results.
Describe the results you achieved with your Beachbody program. Which achievements are you proud of?
I completed 2 rounds of MAX:30. For my 2nd round, I ordered Shakeology, Energize, and Recover. I drank my Shakeology everyday and the pounds and inches fell off. I dropped several inches and over 22 lbs on the 2nd round. My nutrition wasn't 100% where it needed to be, but it was so much better than during my 1st round. I am most proud of the weight I've lost and having the ability to do leg exercises like Chair Hold, Plyo Hook Lunges, and 360 squat hop to name a few! I also feel so much stronger after completing this program, especially my legs.2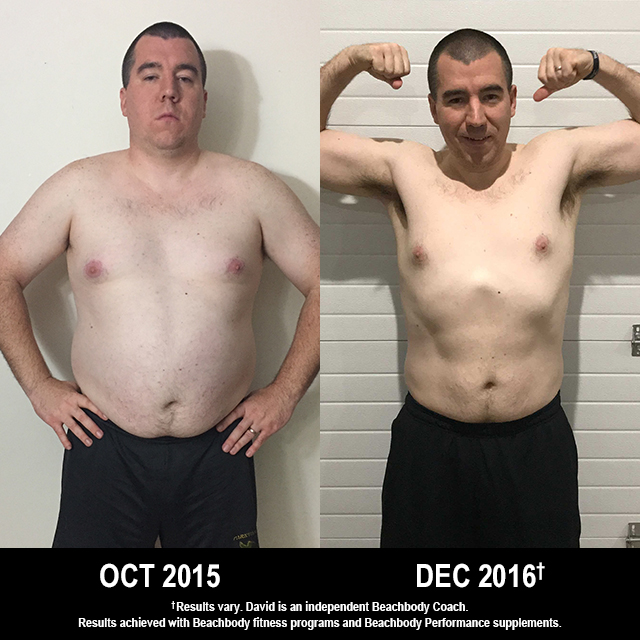 How has your life changed since completing your Beachbody program?
Everyone is asking me what I've been doing. Several co-workers who I don't usually have much interaction with have complimented me on how I look and ask what I'm doing. It feels great! Even my wife noticed how toned and muscular my arms are now! I became an INSANITY Live instructor and even went way out of my comfort zone and met with a place that has basketball courts to partner up with them. We have our sneak peak Dec 12 and 13 then we go full bore with classes Jan 2. I also became a TBB Coach on Dec 18th, 2015 and have not regretted it.
How did your Team Beachbody® Coach support you on your journey?
Jenna was my sounding board. If I had a question about a specific move and whether or not I was doing it right, she was quick to answer. I would often get encouraging messages from her telling me that she was proud of me and that I am inspiring her. That really meant a lot to me. She would check in at least weekly to make sure I had everything I needed to succeed. I am thankful for the lead program placing me under her.
How did a Beachbody Supplement or Nutritional Product or Program (such as Shakeology® or Beachbody Ultimate Reset®) support your transformation? What are the greatest benefits you gained? Did you see benefits to your energy, sleep, mood/mental clarity, digestion/regularity?
Shakeology definitely helped me become more regular. I would have difficulty with elimination but that hasn't been an issue since day 3 of being on Shakeology. I crave vegetables! Seriously, I was the kind of guy that wouldn't eat the slice of pizza if I had to pick peppers off of it. Now I request my wife to make fajitas with bell peppers! This is the biggest thing Shakeo did for me, helped crush my sugar/junk food cravings. I look forward to eating healthy, nutrient dense food instead of dreading it. Energize helped me crush my max out times! I noticed a difference from the first time I used it. I was able to not only last longer but also go harder in the workout all the way until the end. I recommend Energize to anyone who wants to get more out of their workouts. 1st round of MAX:30 I lost 3lbs, 2nd round I lost 20lbs… only difference was adding Shakeology, Recover, and Energize, so I would say they work pretty well.2
Tell us about your experience with Beachbody On Demand. If applicable, how has it helped you achieve your goals?
I have worked out in my garage since May and I've used BOD exclusively since then. I use my iPad to play the workouts in my garage so I don't wake my family while they're sleeping. Also, I was able to get my workout in when I stayed in St. Louis at a hotel. I put my phone on the treadmill next to some open space and went for it! BOD is another tool that sets BB apart from the competition. It's so convenient and inexpensive that it eliminates almost every excuse.
You can change your life, too. Take the Beachbody Challenge for the tools you need to Decide, Commit, and Succeed! Complete any Beachbody program, and enter your results for a free gift and a chance to win cash and prizes. What program are you committing to next?

†Results vary depending on starting point, goals, and effort.
3Always consult with your physician about your unique medical needs before starting any fitness program or nutrition product.
1Consult your physician before discontinuing or altering any prescribed medication.
2These statements have not been evaluated by the Food and Drug Administration. This product is not intended to diagnose, treat, cure, or prevent any disease.