Laura Bates lost 50 lbs. with PiYo, Shakeology, and the Beachbody Performance supplements. Here's the story that she shared with the Beachbody Challenge contest.
Tell us about your life before you started the program. How did you feel about yourself and your body?
I always felt insecure about how I looked and felt, but I failed so many times trying to lose weight; I just gave up. I figured there was nothing I could do to lose weight, and I came to terms with the way I was.
What inspired you to change your life and begin your transformation journey?
A few things inspired me to change my life and begin my transformation… A good friend had been sharing her transformation pictures with me after starting the 21 Day Fix program and drinking Shakeology. I was blown away at the difference in her appearance in such a short amount of time, and also how she kept saying so many positive things about Shakeology.
What is the greatest challenge you faced before beginning the program? How did the program and Beachbody help you overcome that challenge?
The biggest challenge I faced was motivation. Being so heavy and out of shape, I was embarrassed to be seen out in public and quickly tired from just walking to the mailbox and back. The thought of being out of breath made my anxiety much worse and honestly scared me to the point of not wanting to exercise. Once I started the programs, joined the online groups, and had a support system in place, everything became much more doable and easier to accomplish.
What in particular did you like about the program you chose?
I attended a few PiYo LIVE classes and, although hard at first, I loved the way they made me feel when I was done. I have back and knee problems, and this program was perfect because it's low-impact and easy on my body and joints.
Describe the results you achieved with your Beachbody program. Which achievements are you proud of?
The results I've achieved are something I never thought possible! I have more flexibility, strength, stamina, and overall muscle tone. My tummy was my problem area, and I'm most proud of the way it looks now with all the muscle definition! And push-ups! I couldn't even do one regular or tricep push-up when I started this program, and now I can do a ton of them!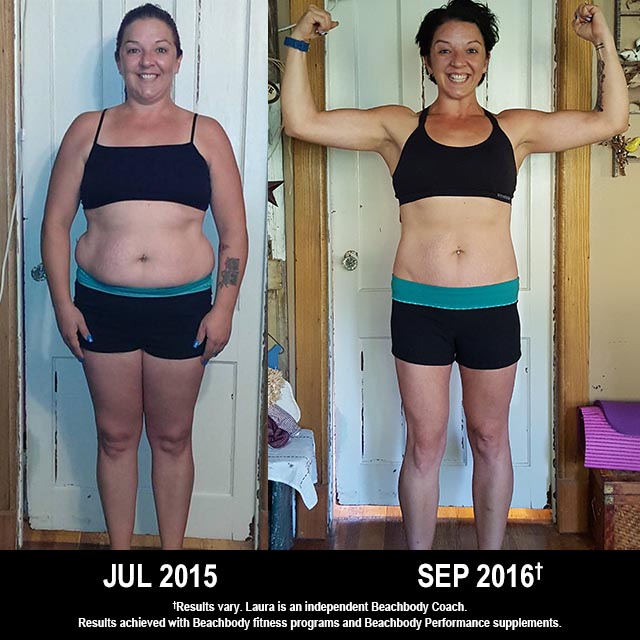 How has your life changed since completing your Beachbody program?
My life has become absolutely amazing! My anxiety, depression, and all health problems are almost nonexistent, and I'm the happiest I've ever been, both physically and mentally! Before starting Beachbody, I had crippling anxiety and depression. My mental health was at a place where I felt helpless and awful. Since my lifestyle change 14 months ago, including the fitness programs, Shakeology, and improving my nutrition, I've never felt better.
How did participating in a Challenge Group help you reach your goals? How did your group support you and keep you accountable?
My Challenge Groups have played a huge role in my success. From the support, motivation, and love, to making the best friendships I've ever had. The personal connections I had with people just like me made me accountable and feel amazing!
How did your Team Beachbody Coach support you on your journey?
Aside from being my best friend and inspiring me from the very beginning, she made me see my own potential and supported me every step of the way. From the super bad days when I wanted to quit, to breaking my own personal records for pushing through and overcoming my own weaknesses. She played a huge role in my journey, and I'm beyond grateful she was there for me!
How did a Beachbody supplement, nutritional product, or program (such as Shakeology or Beachbody Ultimate Reset) support your transformation? What are the greatest benefits you gained? Did you see benefits to your energy, sleep, mood/mental clarity, or digestion/regularity?
Shakeology gave me the energy I needed to perform and curbed the cravings to keep me on track with my nutrition. I slept better, as well as felt more energized and less moody. I also used the Energize and Recover supplements to help give me the energy on the tough days and to heal when I pushed myself to the limit!2
You can change your life, too. Take the Beachbody Challenge for the tools you need to Decide, Commit, and Succeed! Complete any Beachbody program, and enter your results for a free gift and a chance to win cash and prizes. What program are you committing to next?

†Results vary depending on starting point and effort.
2These statements have not been evaluated by the Food and Drug Administration. This product is not intended to diagnose, treat, cure, or prevent any disease.