My go-to chili recipe on a busy weeknight is a vegan, bean-based number. It's easy, because there is usually a can of beans and some version of canned tomato product in the cupboard. I spice that up with chili powder and ground cumin, toss in a mishmash of vegetables, and dinner is served in about 30 minutes.
Lately, though, I've been craving a hearty bowl of traditional beef chili made with succulent cubes of chuck steak. But that kind of meaty chili sounded labor-intensive, and, to be honest, I didn't want to put in any extra effort. This simple slow-cooker beef chili recipe is everything I was hoping for. It keeps things simple, without bells and whistles or special ingredients, but in the slow cooker, the meat becomes fall-apart tender, and develops deep and satisfying flavor.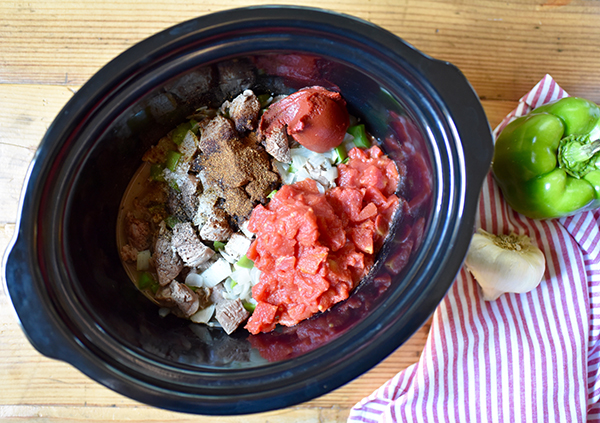 After a couple minutes of chopping, and a few minutes of browning and sautéing, you can pop all of the ingredients into a slow cooker and forget about it for several hours. If your slow cooker has a browning setting, you can brown the meat and sauté the vegetables in the same pot, making clean up even easier. Definitely consider doubling this recipe if your slow cooker has a large enough capacity. Freeze unused portions for a future weeknight win!
Slow Cooker Beef Chili
Total Time: 4 hrs. 56 min.
Prep Time: 15 min.
Cooking Time: 4 hrs. 41 min.
Yield: 6 servings, about 1 cup each
Ingredients:
1 Tbsp. olive oil
1½ lbs. extra lean beef chuck, cut into bite-sized pieces
1 medium onion, chopped
1 medium green bell pepper, chopped
2 cloves garlic, finely chopped
1 (15-oz) can diced tomatoes, no salt added
¼ cup tomato paste, no sugar added
2 Tbsp. chili powder
¾ tsp. sea salt (or Himalayan salt)
½ tsp. ground black pepper
1 (15-oz.) can kidney beans, drained, rinsed
Preparation:
1. Heat oil in medium nonstick skillet over high heat.
2. Add beef; cook, stirring frequently, for 4 to 5 minutes, or until browned. Reduce heat to medium-high.
3. Add onion and bell pepper; cook, stirring frequently, for 3 to 4 minutes.
4. Add garlic; cook, stirring frequently, for 1 minute.
5. Place beef mixture in a 3-quart slow cooker.
6. Add tomatoes, tomato paste, chili powder, salt, and pepper. Mix well; cover. Cook on high for 3 hours.
7. Add beans; cover. Cook for 1 to 1½ hours, or until beef is tender.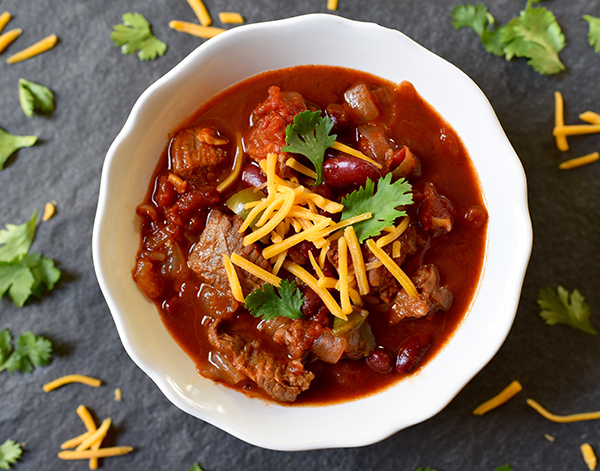 Nutritional Information (per serving):
Calories: 280
Total Fat: 8 g
Saturated Fat: 2 g
Cholesterol: 57 mg
Sodium: 584 mg
Carbohydrates: 21 g
Fiber: 7 g
Sugars: 4 g
Protein: 31 g
P90X/P90X2 Portions
½ Vegetable
1½ Protein
½ Tuber/Legume Carb
P90X3 Portions
1½ Protein
1½ Carb
½ Fat
Body Beast Portions
2 Vegetable
3 Protein
½ Legume
½ Fat
Containers
1 Green
1 Red
1 Yellow
½ tsp.
If you have questions about the portions, please click here to post a nutrition question in our forums so our experts can help. Please include a link to the recipe.
Photographs by Kirsten Morningstar